play_arrow
 
Kepma EAC-E K10 TransAcoustic Guitar
bookmark_border
#2 Best Seller
local_shipping
We will be able to ship this product in {{ message }}
Terms
Order {{ hours }} and this will be dispatched before 7PM {{ tomorrow }} - {{ date }}
0
Kepma Launches New Premium Transacoustic guitars Transacoustic now affordable !!! Kepma brings the premium E series electro acoustic Transacoustic guitar range at pocket friendly prices. Play all effects without PLUGGING IN! The Kepma EAC is built with traditional combination of high quality laminated tone woods that projects good sound characteristics with strong and durable built construction.
favorite_border Add to Wishlist
favorite_border Added to the Wishlist
Specifications
Grand Auditorium Cutaway Design Body
Series - E Of KEPMA
AA Grade Laminated Sitka spruce top
AA Grade Laminated African mahogany back & sides
Premium Die - Cast KEPMA machine heads
Mahogany Neck / C shape
Rosewood fretboard
Rosewood bridge
Anti Rust coated strings
Standard x scalloped bracing
Top Thickness is 2.7mm±0.2mm
Dove Tail neck joint
Nut, saddle and bridge pins are ABS
Scale Length - 650mm
Nut Width - 43mm, 54mm ( 1-14 fret )
Frets - 20 frets
Fret Material - Albata ( 1.0 * 2.0 MM )
String - Kepma String 012 - 053
Satin Finish
ABS Rosette and binding
Pick up - Kepma K-10 Transacoustic ®
2 way Adjustable Truss Rod
Kepma Cable included
Allen key included
Transacoustic EQ developed by Double® for kepma with Chorus , delay , reverb , hall and room!
Reviews
(0)
About Kepma EAC-E K10 TransAcoustic Guitar
Grand Auditorium
The Kepma EAC Grand Auditorium acoustic guitar body style is characterized by its versatility. It is well-suited for both fingerstyle and strumming techniques, making it a popular choice for a wide range of musicians. The Grand Auditorium is also comfortable to play for extended periods of time, thanks to its well-balanced design. If you're looking for an acoustic guitar that can do it all, then Kepma EAC grand auditorium acoustic guitar is a great option.
Cutaway Design
Kepma EAC has a cutaway design this allows the guitarist to have better access to the higher frets on the neck. Cutaway guitars are popular among many styles of music, including rock, blues, and jazz. Many famous guitarists have played cutaway guitars, including Jimi Hendrix, Eric Clapton, and George Harrison.
Sitka Spruce Top
Sitka spruce is one of the most popular and commonly used woods for guitar tops. It is prized for its lightweight, strength and stiffness, which makes it an excellent tonewood. Sitka spruce is also very resonant, which gives it superior acoustic properties.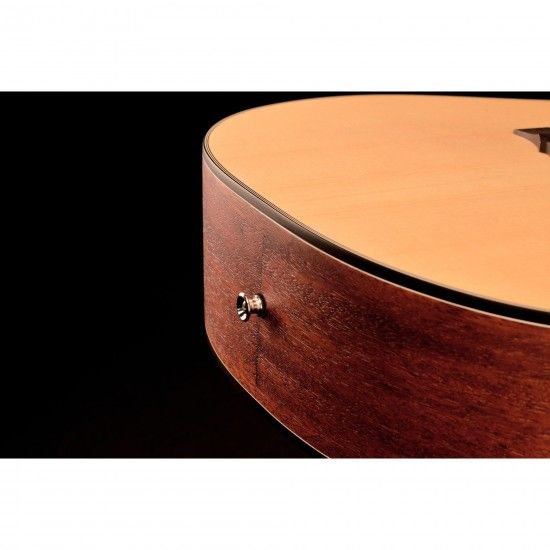 Mahogany Back & Sides
The Kepma EAC acoustic guitar has a more balanced tone when it is made with mahogany back and sides. The sound of the guitar is not as "boomy" as it is with other woods, so the midrange frequencies are more pronounced. This gives the guitar a "punchier" sound that is well-suited for rhythm playing. Mahogany is also a very durable wood, so it will withstand the rigours of touring and gigging. If you're looking for an acoustic guitar that has a great all-around sound, then one with mahogany back and sides is a good choice.
Rosewood Bridge and Fretboard
Kepma EAC Guitars with rosewood fretboards and bridges offer a number of benefits for players. Rosewood is a strong wood that helps to create guitars that are durable and long-lasting and the natural finish of rosewood helps to give guitars a beautiful and classy appearance