play_arrow
 
Yamaha PSR-I500 Portable Keyboard
bookmark_border
#1Bestseller
local_shipping
We will be able to ship this product in {{ message }}
Terms
Order {{ hours }} and this will be dispatched before 7PM {{ tomorrow }} - {{ date }}
1
The Yamaha PSR-I500 is the successor to Yamaha PSR-I455. This is the ideal keyboard for Indian music lovers.This keyboard is complemented with amazing features like " Quick Sampling" and "Riyaz". This is the combination of Yamaha PSR-E463 and Yamaha PSR-I455.
Includes : 3 Year Manufacturer Warranty, Adapter, Notation Book Stand, User Manual.
favorite_border Add to Wishlist
favorite_border Added to the Wishlist
To save, come up with your own creative bundle
Specifications
Successor To The PSR-I455
61 Standard Keys With Touch Dynamics (Soft, Medium,Hard,Fixed)
Pitch Bend, Control Knobs
801Voices (257 Panel Voices+32 Drum/Sfx Kits+50 Arpeggio Voices+462 Xglite Voices)
282 Styles ( Incl. 50 Indian Styles)
60 Preset Songs
48-Voice Polyphony
1 One Touch Setting Per Style
Effects: Reverb, Chorus, Master EQ, Harmony
Arpeggio 160 Types
Dual Layers
Split
One Touch Setting
Recording Number Of Songs :10
Recording Number Of Tracks :6
Data Capacity : Approx 19000 Notes
SMF Format 0 & 1
Registration Memory (4*8 Banks)
Internal Memory :1.73 MB
Metronome
Transpose
LC Display With Backlight
AUX In (Stereo Mini)
Amplifiers :6W + 6W
Speakers : 12cm * 2
Power Consumption : 8W
Auto Power Off Function
Body Color: Metallic Dark Grey
DC IN : 12V, Headphones Output,
Sustain Pedal, Aux In, Usb To Device
Usb To Host
Reviews
(1)
About Yamaha PSR-I500 Portable Keyboard
Song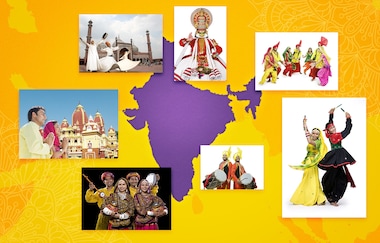 Importing standard MIDI files to the PSR-I500, you can play any kind of requested Indian song without a band. The Yamaha MusicSoft website has an extensive library of songs you can play.
*The map has been kept just for graphical representation to provide easy user navigation and it's not presenting or associated with any political boundaries of countries.
Style/Arpeggio
The PSR-I500 has an auto-arpeggio function that features Indian style arpeggios.
Also, Yamaha's auto accompaniment function "Styles" now covers influences from every corner of India. You can even download and add "Styles" from Yamaha MusicSoft.
Registration memory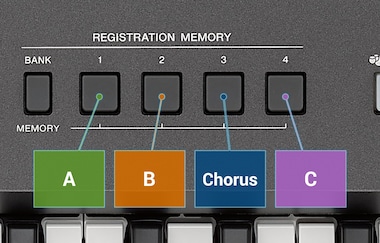 You may want to change sound settings for different songs or even during a song while you perform. The Registration Memory setting allows you to recall those stored settings (Voices/Styles/Effects etc) with the push of a button.
Transpose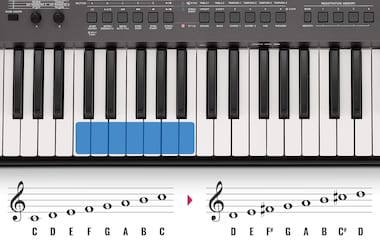 If you want to play a song with your vocal partner or Tabla player, but they do not have the vocal range or prefer a different key for the song, simply use the Transpose function to play in other keys worry free.
Dual voice
Dual voice allows players to play two instruments together, for example using both Piano and Strings together for a dreamy atmosphere, while Bansuri and Xenon pad provides a similar feel. Another example of effective use of the dual voice function is layering Harmonium with String Slap to achieve a more realistic sound.
Split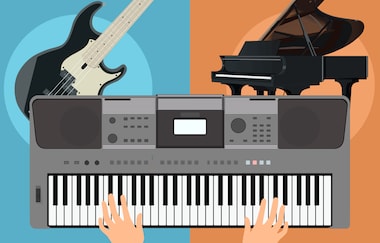 For players who want to switch back and forth between two instruments or take on two instrumental roles —for example playing bass and pianos together while singing—the PSR-I500 features a Split function that lets you split the keyboard and assign an instrument to the lower and upper halves of the keyboard.
Pitch bend wheel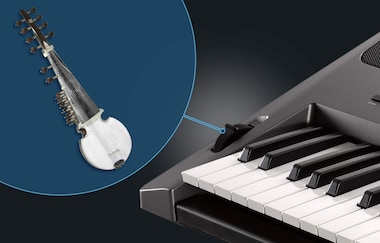 Much like Guitarists bend notes to raise the pitch of their melodies, pitch bend wheel allows you to use this technique with a number of instruments such as the Sitar, Veena, Violin, Saxophone, Mandolin, Bass, Tabla, Bulbul tarang, Sarod, and others.
Portamento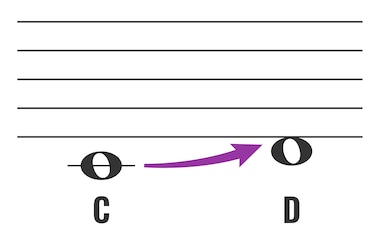 Portamento is a function that creates a smooth transition in pitch from the first note played on the keyboard to the next.
This makes instruments sound more natural, especially when you play using certain Voices such as Bulbul tarang, Veena, Strings, Synth, Bass, or Sitar.
Master EQ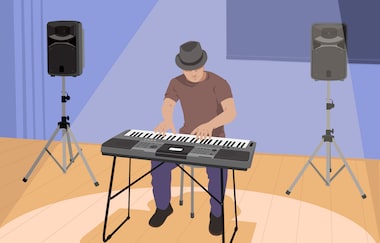 The newly added "India" master EQ type makes your PSR-I500 sound more punchy and rich for Indian Instruments in particular when you are connected to a PA system.
DSP effects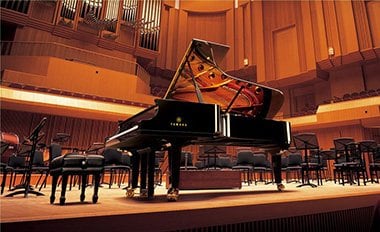 New DSP effects add more variety and depth to your sound. Reverb presets will make you feel as if you are playing in a world famous concert hall while the Rotary speaker effect will add a professional feel to organ sounds or even the Tanpura. Distortion is obviously important for some electric guitar sounds, but it's also worth giving it a try with the Electric Sitar.
Built-in Speakers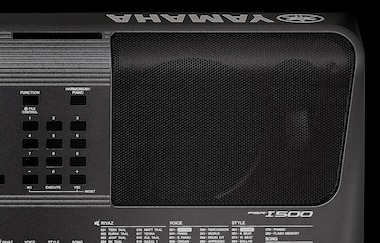 The PSR-I500 is also equipped with two powerful onboard 6-watt speakers delivering punchy bass and drums without the need for setting up an external PA in smaller venues such as a cafe or restaurant.
Battery drive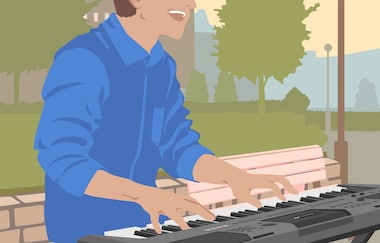 The PSR-I500 is also driven by batteries. Don't forget the battery pack for street performances, for touring, or camping without a stable electricity supply.
Portable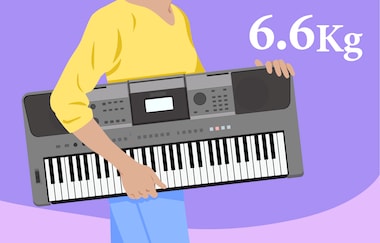 Light and durable to meet even the needs of traveling musicians, the PSR-I500 is easily transported from stage to stage, and can be used in any playing environment you choose.